EaDo Houston Neighborhood Guide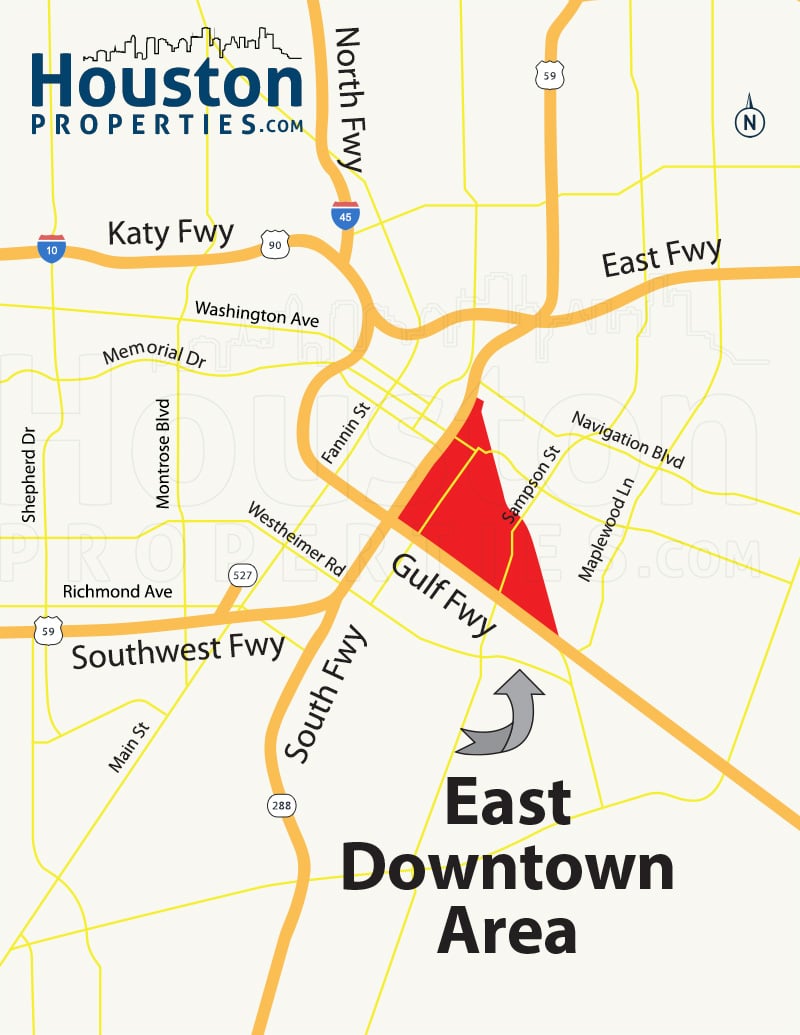 EaDo (East Downtown) is an up-and-coming neighborhood just east of Houston's Central Business District. It is dubbed as the "Art & Soul of Houston" for its lively, alternative art scene.
An emerging Houston neighborhood on the verge of reinvention, EaDo offers many great benefits including:
PROXIMITY TO JOB CENTERS: EaDo is immediately adjacent to Downtown Houston. The district is also a few minutes from the Texas Medical Center, Houston Ship Channel, and Greenway Plaza.
NUMEROUS RECREATIONAL OPTIONS: The BBVA Compass Stadium is within the district, and the Toyota Center and Minute Maid Park are just across the freeway. The neighborhood is also minutes from Discovery Green and George R. Brown Convention Center.
EMERGING REAL ESTATE: EaDo has one of the most competitively priced properties in the Inner Loop. EaDo benefits from the new BBVA Soccer stadium, MetroRail expansion, multiple new apartment and townhome complexes, and growing list of (highly rated) new restaurants and bars.
GREAT ACCESSIBILITY: EaDo is one of 10 most accessible neighborhoods in Houston due to its proximity to Downtown Houston and recent surge of commercial development within the area.
Up until 10 years ago, many developers were hesitant to build in this neighborhood due to the negative image of the U.S. 59 overpass (that divides EaDo from Downtown Houston). The recently built BBVA Compass Stadium, MetroRail expansion, and development of highly restaurant and bars have injected new life into the area.
EaDo is seeing a massive rise in commercial and residential development. However, with the changes in school zones, proximity to railroad tracks, and uneven development in the area, homebuyers will benefit from the guidance of a good EaDo Houston realtor.
For any inquiries about EaDo homes recommendations, or off-market MLS listings, get in touch with Paige Martin, Owner of HoustonProperties.com and one of the best Realtors in Houston.
EaDo Resources (Popular Topics)
Houston EaDo Neighborhood Profile
EaDo Real Estate Guide
EaDo Maps and Location
EaDo spans 213 acres of mostly industrial land between the George R. Brown Convention Center, East End, and the Third Ward.
The triangle-shaped district is bordered by Gulf Fwy to the southwest, Eastex Fwy to the northwest, and the Union Pacific rail line that runs from Commerce to Cullen.
Much of the area is undergoing development towards retail and residential use. It is common to see new constructions in the neighborhood.
Aside from the residential and business sites being built, the EaDo promenade is being built on Bastrop Street, spanning 5 blocks between Bell and McKinney.
This 80-foot wide area will be paved with granite and lined with trees, converting it into the only green space and pedestrian promenade within the neighborhood.
The district offers quick and easy access to major freeways I-45 (Gulf Fwy) and US-59 (Eastex Fwy). The neighborhood is also minutes from the University of Houston and Texas Southern University.
The area also offers good transit with buses plying Cullen and Polk St, and buses going to University of Houston and Texas State University.
New MetroRail expansion routes are expected to open soon, promoting connectivity to other Houston neighborhoods. This vibrant neighborhood continues to grow and attract homebuyers and businesses.
The East Downtown Houston zip codes are 77003 and 77023.
Nearby zip codes include: 77004, 77011, 77002, 77010, 77019, and 77006. (View Houston zip code map)
Fun Things To Do Near EaDo
The neighborhood offers a variety of ethnic grocery stores, restaurants, bars, and art galleries. EaDo is one of the 10 most accessible Houston neighborhoods.
Nightlife and sporting events are the primary crowd drawers of the district. The BBVA Compass Stadium, home of the Houston Dynamo and the Texas Southern University football team was completed in 2012 and has been the anchor for EaDo Houston development.
Warehouse Live on 813 St. Emanuel Street is a 1920's warehouse that's been converted to a live entertainment venue. It was named "Best Musical Venue" in 2008 by Citysearch and has hosted many popular music acts.
Among the many unique shops in EaDo is Aerosol Warfare. The shop is an art gallery and boutique that sells urban wear.
Another unique concept that fits well with EaDo's growing creative culture is Houston Makerspace. Through crowdfunding, a facility was created where creatives can gather to learn, and use the space to fabricate their ideas into highly-valued works. Their facilities include a wood shop, metal shop, rapid prototyping lab, screen printing studio, jewelry studio, and textiles lab among others.
The Houston Food Park sits on a parking lot at 1504 Saint Emanuel St., beside the vacant Meridian Sports Bar. This food truck park opens from lunch daily and celebrates Houston's vibrant food scene.
East Downtown Houston restaurants have some of the best Asian, Mexican, Cajun, and Texan food. Though it's not just humans that are fans of EaDo's food scene. The Green Bone is a doggie espresso bar on 2104 Leeland and offers healthy snacks and drinks for both masters and pets.
The neighborhood has a bike score of 70, making it a favorite among many Houston cycling groups. The area is very flat and is home to the Columbia Tap Rail-Trail. This 4-mile stretch starts from the south, passes through the scenic Hermann Park, and ends at Dowling Street.
Houston's first protected, dedicated bike lane will open on Lamar Street in Downtown Houston to effectively connect the Buffalo Bayou Trails and Columbia Bike Trails. Residents who bike to work will have an easier time going to Downtown during rush hour.
Other fun places to visit near EaDo include: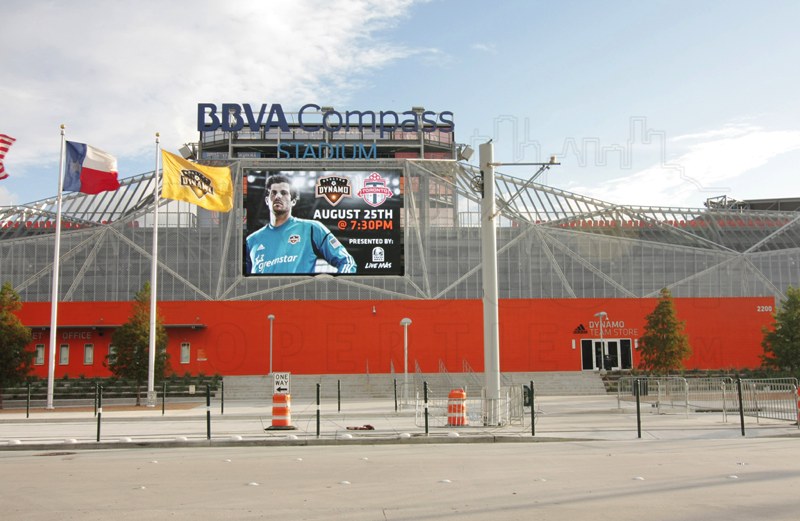 Restaurants:
Cafe TH
The Cajun Stop
Huynh
Brothers Taco House
Sparkle's Hamburger Spot
Kim Son
District 7 Grill
Not Jus' Donuts
Nightlife:
Club 2020
Cork Soakers
D & W Lounge
Dionisio Winery
Little Woodrow
Mojeaux's Louisiana Drinkery
Walker Street Gastropub
8th Wonder Brewery
Super Happy Fun Land
Shopping:
Aerosol Warfare
Frankel's Costume Co.
Epicurean Express
Kroger
Green Street
East End Hardware
Arts and Entertainment:
Canal Street Gallery
Texas Art Asylum
Mercury Houston
Studio 101
Blue Box Theatre
Neighborhoods Near EaDo
Neighborhoods near EaDo Houston include:
Second Ward
Third Ward
East End
Fifth Ward
Northside Village
Magnolia Park
EaDo Houston History
East Downtown was once home to Houston's old Chinatown. Seeking more affordable land, many Cantonese immigrants moved to the district from Downtown Houston in the 1930's. They established several businesses, attracting other East Asian immigrants.
These Chinese merchants moved to the southeastern edge of Downtown Houston in the early 1950's. It took a while for everything to settle, but by the 1990's many of these businesses have relocated to the current Chinatown near Bellaire and Alief.
The district was left with abandoned warehouses and several bars, but with little development activity. In recent years, however, with the increase in property taxes in Houston's business districts and the lack of housing in the city, the district started to get the attention it deserves.
In 2008, the East Downtown Management District called for suggestions for a new name to baptize the up-and-coming district. They have a vision of a well-planned, high quality community.
Following the hip trend that's characteristic of this neighborhood, they named it EaDo, short for East Downtown.
EaDo Schools
The Houston Independent School District (HISD) operates schools zoned to East Downtown.
Public Schools:
Elementary
The school boundary for Rusk Elementary School runs from Polk Street, St. Charles Street, Lamar Street, Ennis Street and continues east until it reaches the railroad tracks at McKinney Street. This zone stretches north up to the East End.
The rest of the district is currently zoned to the Dodson Elementary School, which is set to close amidst protests from residents. Students will be rezoned to Blackshear Elementary, just 2 miles from the neighborhood.
Dodson Elementary School at 1808 Sampson St. The Dodson Montessori Magnet School accepts children from Pre-K to 5th grade. The school fuses montessori theories with HISD's curriculum goals.
Rusk Elementary School at 2805 Garrow St. The Rusk School offers a Science, Technology, & Mathematics magnet services to students from PK-8th grade. The school has an award-winning robotics and CSTEM team due to its  great Integrated Technology Program.
Middle School
Jackson Middle School at 5100 Polk St. Jackson Middle School is one of Houston's most historic schools. The school is located in the University district and offers a great athletics program, as well as classes on Engineering, Robotics, Math, Science, and Writing. The school is home to a 3-time defending champion of the International C-STEM Challenge.
High School
Residents located east of Velasco Street, Roberts Street, and Sampson Street are zoned to Austin High School. The rest are zoned to Wheatley High School in the Fifth Ward district.
Austin High School at 1700 Dumble St. The Stephen F. Austin High School is located in the Eastwood area and is attended by students from grades 9 to 12. The school offers a magnet program for teaching professions and is one of the most architecturally beautiful campuses in Houston.
Wheatley High School at 4801 Providence St. The Phyllis Wheatley High School offers a technology magnet program. The school also excels in athletics, with a highly-rated football and basketball team.
To find an updated listing of all EaDo real estate zoned to any specific public school, please send an email to Paige Martin at Paige@HoustonProperties.com with the property preference and budget that you're working with.
*Note: School zoning tends to change from year to year, information provided above are accurate but not guaranteed. Please double check by visiting the school's website.
EaDo Real Estate Trends
East Downtown Houston real estate prices have dramatically increased in the past few years. Just last year, EaDo had a 7% increase, one of the largest changes in median sales prices of residential dwellings.
EaDo homes for sale had a 19% price change per square foot that same year. The median price per square foot surged from $132 to $157. Listings stay on the market for an average of 19 days, and some homes never even get listed.
The commercial development boom appears to push real estate prices up.
For the past decade, artists and makers have been transforming the district's industrial warehouses into living spaces or art canvases. It continues to attract younger crowds looking for EaDo Houston rentals or cheaper East Downtown Houston lofts.
The block surrounding Capitol, Rusk, and St. Charles street across the BBVA Compass Stadium is also being cleared with the possibility of being turned to a mixed-use development.
This hip district is also getting the attention of businesses and startups, attracted to its young crowd. Houston's leading mobile app development agency, ChaiOne, is moving their headquarters to a historic building at the corner of Leeland and Delano. The company recognizes EaDo's need for retail spaces and intends to rent out the first floor of the building for retail tenants.
With this, Houstonians are looking at the possibility of EaDo becoming a non-energy tech district. START, a coworking space dedicated to startup companies and freelancers of web and mobile apps, is located at a 5,000 square foot lot on 1121 Delano St. This is also where the East Downtown Management District holds office.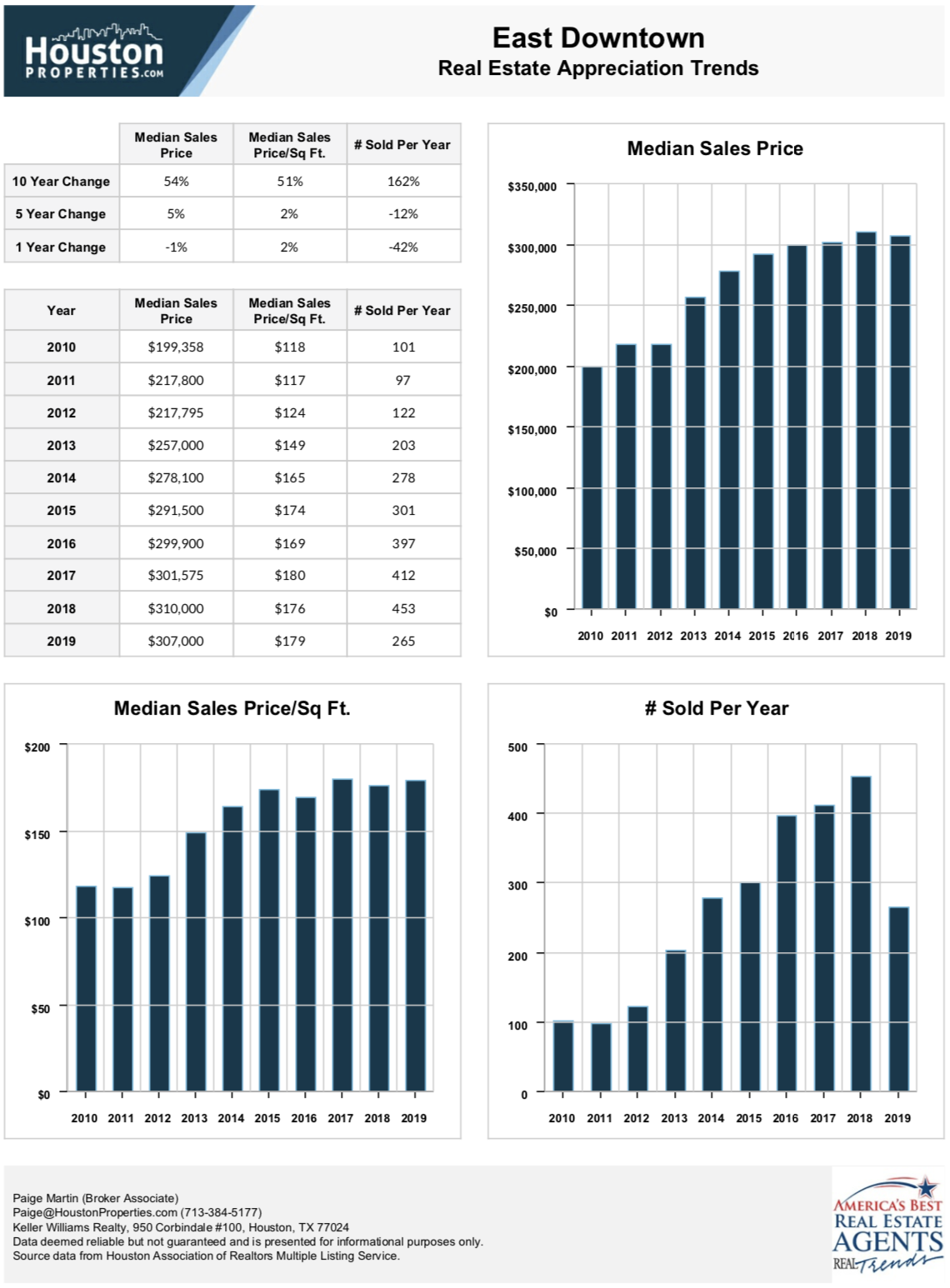 (Data sourced from the Houston Association of Realtors Multiple Listing Service and is deemed reliable but not guaranteed.)
For updated information regarding EaDo real estate pricing and trend analysis, please contact Paige Martin at Paige@HoustonProperties.com.
EaDo Single-Family Home Sale Trends
East Downtown Houston single-family homes have been decreasing due to a trend of replacing them with townhomes.
These homes are still on the cheaper side, with prices ranging from $120,000 to over $500,000. Since development is scattered, any property has good potential for commercial use. Lots in these price ranges can reach nearly 9,800 square feet of space.
EaDo Houston single-family homes can have living areas or over 4,800 square feet, and as much as 7 bedrooms and 5 bathrooms.
In the last 10 years, the average price per square foot of EaDo Houston homes have appreciated by 149% to $132 per square foot. The number of homes sold are expected to continue increasing.
There are some new construction single-family homes, although not as common as townhomes.
EaDo Townhomes Sale Trends
Luxury EaDo townhomes have been promoting activity in the East Downtown real estate market. Numerous projects have gone up in the neighborhood, with most units getting sold before completion.
For prices starting at mid $200,000, homebuyers enjoy being close to everything, while still having a quiet neighborhood setting.
These luxury East Downtown townhomes for sale often come with upscale finishes, top-of-the-line appliances, gated security, and eco-friendly features.
A townhouse complex is being developed on the lot bounded by Lamar, Roberts, and the Southeast Line. These gated 2 to 3-bedroom EaDo townhomes start from $250,000.
The Lamar Live Oak Crest is another quiet subdivision at the corner of Lamar and Live Oak. The site has 3-4 bedroom townhomes of Brownstone style architecture, and has a swimming pool. Prices start at almost $365,000 for living spaces around 2,500 square feet. Some go as high as nearly $700,000 for a 3-bedroom and 3.5 bathroom townhome with over 3,800 square feet of living area.
Capitol Oaks is another fairly new EaDo townhome complex. They offer 3 to 4 bedroom units of contemporary design starting at $549,000 for 3,300 square feet homes, to almost $570,000 for 3,700 square feet.
Other EaDo townhomes include:
EaDo Trails
Modern EaDo
McKinney Landing
EaDo Condo Sale Trends
Developers in EaDo have also been moving from townhouse-level constructions to multifamily projects such as East Downtown Houston apartments, dorms, and condos.
A private University of Houston dorm is set to be built on the southeast corner of EaDo along Cullen Blvd. This would be beneficial to students going to UH as Cullen provides a better entry way into the campus, especially for those who walk or bike to school.
While there are are no high rise condominiums within the district, mid-rise EaDo condos can be acquired for $250,000 to high $400,000.
Some of the EaDo condo buildings include:
Condos near EaDo include:
Click here to tour Downtown Houston Condos and Downtown Houston Lofts.
EaDo Houston Realtor – Paige Martin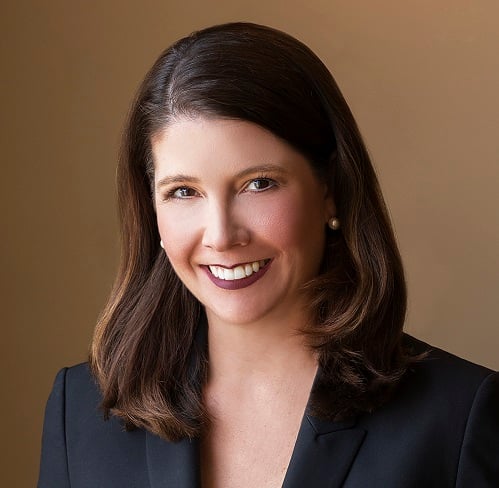 As featured on Fox News in the Morning, the Houston Business Journal, Houston Chronicle, and Houston Magazine, Paige Martin – a consistent Top Producing Broker-Associate and the owner of HoustonProperties.com – is ranked amongst the very top Keller Williams agents in the Houston area.
Paige is ranked as one of the top realtors in East Downtown Houston, and the state of Texas. Read more about the over 65 awards she's won in the last few years.
Paige works with a tremendous number of buyers and sellers within the Inner Loop.
For a specific recommendation of neighborhoods, homes or properties based upon your personal style, goals & price point, please contact Paige Martin, Owner of HoustonProperties.com & Broker Associate atPaige@HoustonProperties.com or 713-384-5177.