Galleria Houston Neighborhood Guide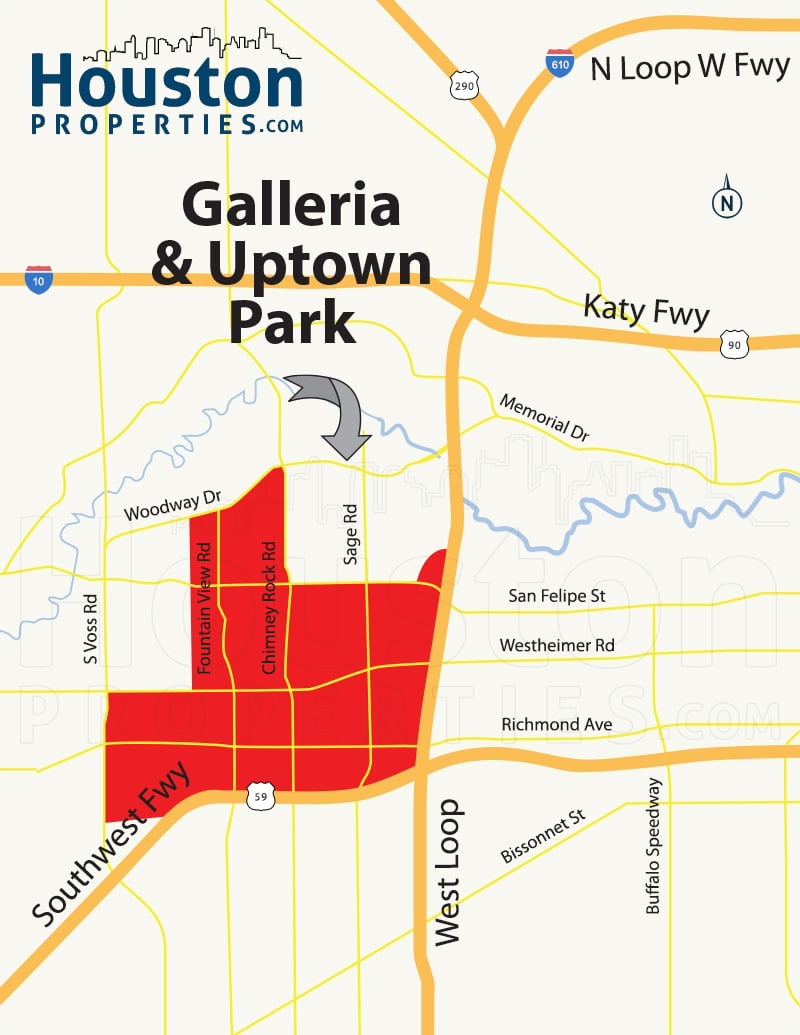 Located west of Loop 610, the Galleria is one of Houston's main business and retail centers. Vibrant and eclectic, the neighborhood is a bustling mix of offices, posh boutiques, restaurants, and upscale homes.
Galleria homes for sale are highly desirable for a variety of reasons, including the neighborhood's:
CENTRAL LOCATION: As one of Houston's key districts, the Galleria has shopping centers, hotels, schools, and offices within a stone's throw of its homes.
GREAT COLLECTION OF LUXURY HIGH-RISES: Galleria is home to posh residential condo buildings like The Montebello, Cosmopolitan, Astoria and Villa d'Este. These highrises have 24-hour staff, guards, secure parking, gated entrance, building security, tennis courts, pools, saunas, fitness rooms, well-kept grounds, roof top decks, and more. Porters, valet, building managers, concierges, trash & dry cleaning pickup are also available in some luxury buildings.
EASY ACCESSIBILITY: The Galleria is located along two major freeways, including Loop 610 and the Southwest Freeway. Major Houston thoroughfares line the district and provide additional access to other key Inner Loop hubs.
WORLD-CLASS SHOPPING: As Houston's premiere shopping destination, the Galleria/Uptown area is just teeming with fashion boutiques and various retail hotspots.
MAJOR JOB CENTER: The Galleria features more than 23,000,000 square feet of office space and is one of Houston's main business centers along with Downtown.
SEVERAL HOUSING OPTIONS: The Galleria features a wide variety of housing options, ranging from chic condos in highrise buildings, townhomes in gated communities, patio homes, and new construction custom-built homes.
With work and play hotspots mere minutes away, Galleria homes for sale are perfect for people who like being at the center of the action.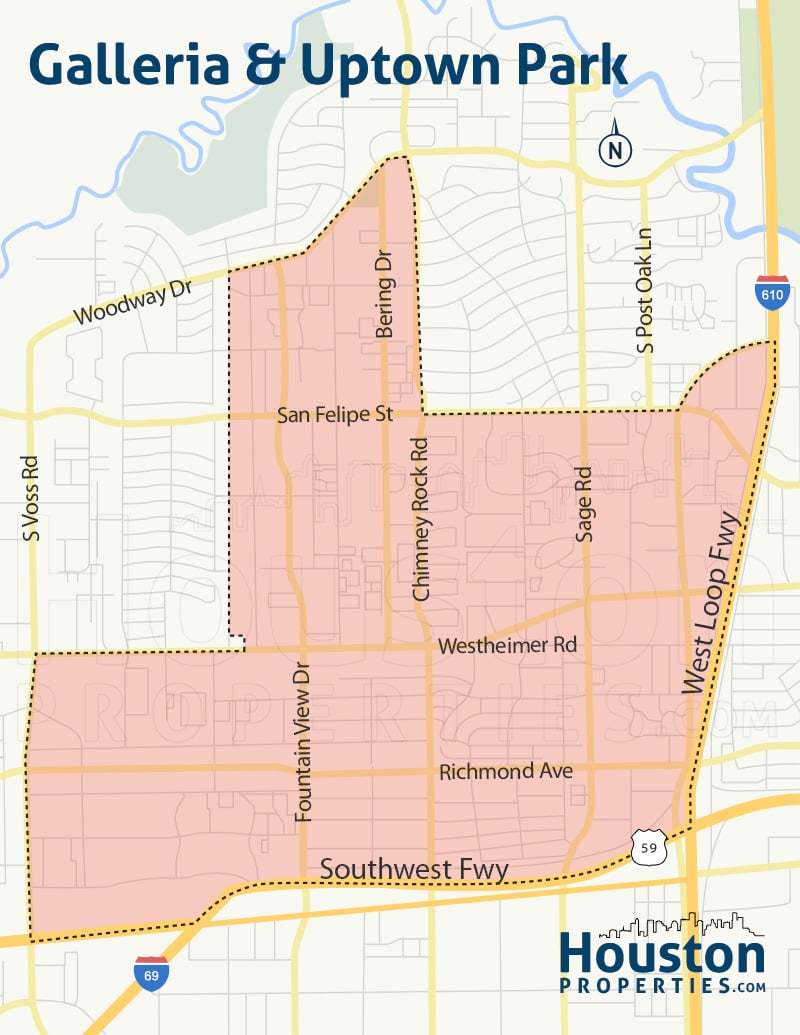 For any inquiries about Galleria homes recommendations, or off-market MLS listings, get in touch with Paige Martin, Owner of HoustonProperties.com and one of the best realtors in Houston.
Galleria Resources (Popular Topics)
All Galleria Homes For Sale
Most Expensive Galleria Homes For Sale
Galleria Homes Under $500K
Galleria Townhomes For Sale
Five Key Galleria Real Estate Trends
Houston Galleria Neighborhood Profile
Galleria Real Estate Guide
Paige Martin – Galleria Realtor
Galleria Maps and Location
Located just outside the Inner Loop, the Galleria is right along the West Loop (Loop 610). The district also has the Southwest Freeway (Highway 59) to the south.
The Galleria/Uptown area has has Tanglewood to the north, Briargrove to the west, Afton Oaks and River Oaks to the east, and city of Bellaire to the south.
As a satellite central business district, the Galleria enjoys having a multitude of schools, boutiques, job centers, hotels, and restaurants within its borders.
Several Metro bus routes cover the Galleria/Uptown area, along with a bus rapid transit line.
The Galleria zip code is 77056 in Harris County.
Zip codes near Galleria Houston include 77027, 77057, 77024, 77007, 77081, and 77401. (View Houston zip code map)
Fun Things To Do Near Galleria
As Houston's main destination for retail, there is no shortage of fun things to do within the Galleria/Uptown area.
There's the Galleria itself. It is the largest mall in Texas, with over 375 stores. With 2.4 million square feet of total retail area, its sheer size is rivaled only by 7 other retail centers in the United States. Its current anchor stores include Neiman Marcus, Saks Fifth Avenue, Macy's, and Nordstrom.
The Galleria also features over 50 restaurants, a jogging track on the roof, a skating rink, and various other entertainment and dining options.
Located just north of the Galleria is Uptown Park, an open European-style shopping center. It offers a pedestrian-friendly vibe, and features several upscale retail, service, and entertainment centers. Must-visit stores in Uptown Park include Facade, Longoria Collection, Mint Kids & Baby, M Penner, and Elizabeth Anthony Esther, among others.
Should residents find those two retail centers lacking, there are plenty of other options within minutes of the Galleria, including Rice Village and Highland Village.
Here are some of Galleria Houston must-visit places:
Restaurants
Chama Gaucha Brazilian Steakhouse
Masraff's
Pappas Bros Steakhouse
Maggiano's Little Italy
De Frisco's Double Eagle Steak House
Truluck's
The Capital Grille
True Food Kitchen
Caracol
Etoile Cuisine et Bar
Nightlife
Firehouse Saloon
Muldoon's the Patio
The Black Swan
The Living Room
Belvedere
The West End
Ron's Pub
Richmond Arms Pub
51fifteen Restaurant and Lounge
Retail and Entertainment Centers
The Galleria
Uptown Park
Rice Village
Uptown Collection
Highland Village
BLVD Place
Groceries
Whole Foods
The Fresh Market
Randalls Food & Pharmacy
Target
HEB
Westcreek Market and Deli
Parks
Gerald D. Hines Waterwall Park
Post Oak Park
Grady Park
Hidalgo Park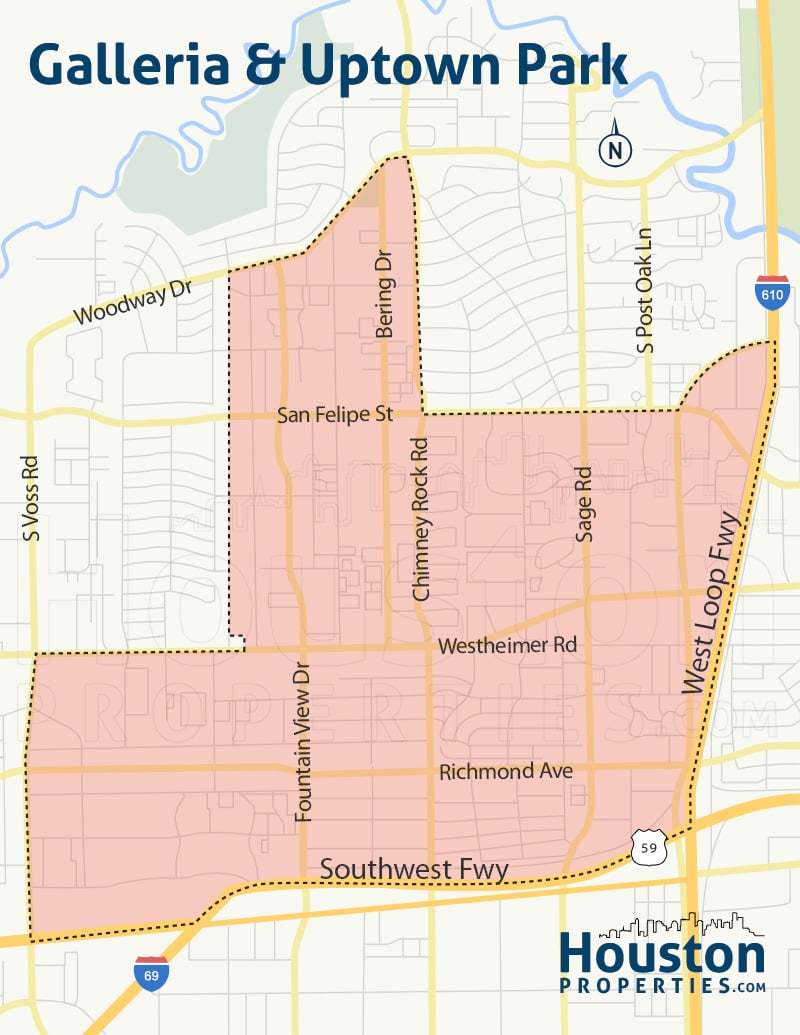 Neighborhoods Near Galleria
Neighborhoods near the Galleria/Uptown area include:
Broad Oaks
Briarmeadow
Del Monte
St. George Place
Galleria Houston History
The beginnings of the Galleria can be traced back to the 1940s when prominent Texas oil tycoon Glenn H. McCarthy had an idea – to build a sprawling shopping and hotel complex in the Houston area. As with most grand ideas however, McCarthy's plans took a while to materialize.
In the 1960s, long after McCarthy had scrapped the concept, real estate magnate Gerald D. Hines took over the development of what is now known as the Galleria. First opening its doors on November 1970, the Galleria got its name from the building that inspired its architectural design and aesthetics – Milan's Galleria Vittorio Emanuele II.
During its early years, the Galleria only featured 600,000 square feet of retail space. Additional expansions and developments in the subsequent years led to making the Galleria what it is today. With over 2 million square feet of retail area and approximately 375 stores and services, it is the biggest shopping mall in Texas and the eighth largest in the United States.
The development of the Galleria in the late 1960s also sparked the development of Houston's Uptown District. Gerald D. Hines and other real estate investors saw Uptown's potential and implemented various developments in the area.
As with the Galleria, the Uptown District underwent a transformation from being an underdeveloped area to one the most vibrant and bustling hubs in Houston, boasting to having more hotel rooms, office spaces, and retail shopping centers than the Downtown Houston.
Galleria Schools
The Galleria/Uptown area is zoned to the Houston Independent School District (HISD).
Elementary Schools
Briargrove Elementary School at 6145 San Felipe St. Briargrove, a newly minted International Baccalaureate World School, now offers the IB Primary Years Programme(PYP). Apart from the new program, Briargrove also features enrichment classes in music, science lab, art, and critical thinking lab, among others.
St. George Place Elementary School at 5430 Hidalgo St. St. George Place Elementary is also one of the HISD's IB World Schools. It also offers a Vanguard neighborhood program for G/T students, ESL, and special special education programs. It features various enrichment courses and after school activities.
Briarmeadow Charter School at 3601 Dunvale Rd. Students within the Galleria can choose instead to apply to Briarmeadow, a charter school serving grades Pre-K through 8. The school offers Pre-AP Placement and Gifted programs.
Middle Schools
Grady Middle School at 5215 San Felipe St. Established in 1929, Grady Middle School offers several academic programs including core enrichment and Gifted and Talented. Grady also has baseball, basketball, cheerleading, wrestling, volleyball, and soccer teams, among others.
High Schools
Lee High School at 6529 Beverly Hill St. Lee offers an advanced placement curriculum where students can earn college level credits in World History, Macroeconomics, Calculus AB and BC, Spanish Literature, Environmental Science, and Physics B, among other subjects.
Lamar High School at 3325 Westheimer Rd. As one of the Houston ISD's International Baccalaureate schools, Lamar has one of the largest IB programs in North America. It also offers a neighborhood program and an Advanced Placement program. The school also offers a great athletics program, with its football team (Lamar Texans, formerly Redskins) reaching the playoffs 30 times.
Westside High School at 14201 Briar Forest Dr. As the Houston ISD's Magnet School for Integrated Technology, Westside's curriculum centers on 5 aspects: Media Relations, Applied Science/Health Science, Fine Arts, Business, and Computing Sciences.
Galleria Houston Private Schools
The following are some of the more notable private schools near Galleria.
St. Michael School at 1833 Sage Rd.
Strake Jesuit College Preparatory at 8900 Bellaire Blvd.
Saint Agnes Academy at 9000 Bellaire Blvd.
Al-Hadi School of Accelerative Learning at S Voss Rd.
The Awty International School at 7455 Awty School Ln.
St. John's School at 2401 Claremont Ln.
The Kinkaid School at 201 Kinkaid School Dr.
To find an updated listing of all Galleria real estate zoned to any specific public school, please send an email to Paige Martin at Paige@HoustonProperties.com with the property preference and budget that you're working with.
*Note: School zoning tends to change from year to year, information provided above are accurate but not guaranteed. Please double check by visiting the school's website.
Galleria Real Estate Trends
The Galleria/Uptown area has a pretty healthy real estate market. Galleria homes for sale have posted a 55% 10-year appreciation, growth that's apparent across the board. The median sales price increased from $396,825 in 2005 to $615,525 in 2014.
The average sales price have likewise had a 49% positive growth, from $150 and $224 during the sale period.
Over the last decade, the number of homes sold has increased. In 2014, 168 homes were sold in the district, 31% higher than the 128 homes sold in 2005.
With its great assortment of homes, there's something for everybody in the Galleria. Single-family homes, townhomes, and condos in various designs, sizes, and condition are available in the district, though as with most Houston neighborhoods, the Galleria real estate market can be tricky to navigate.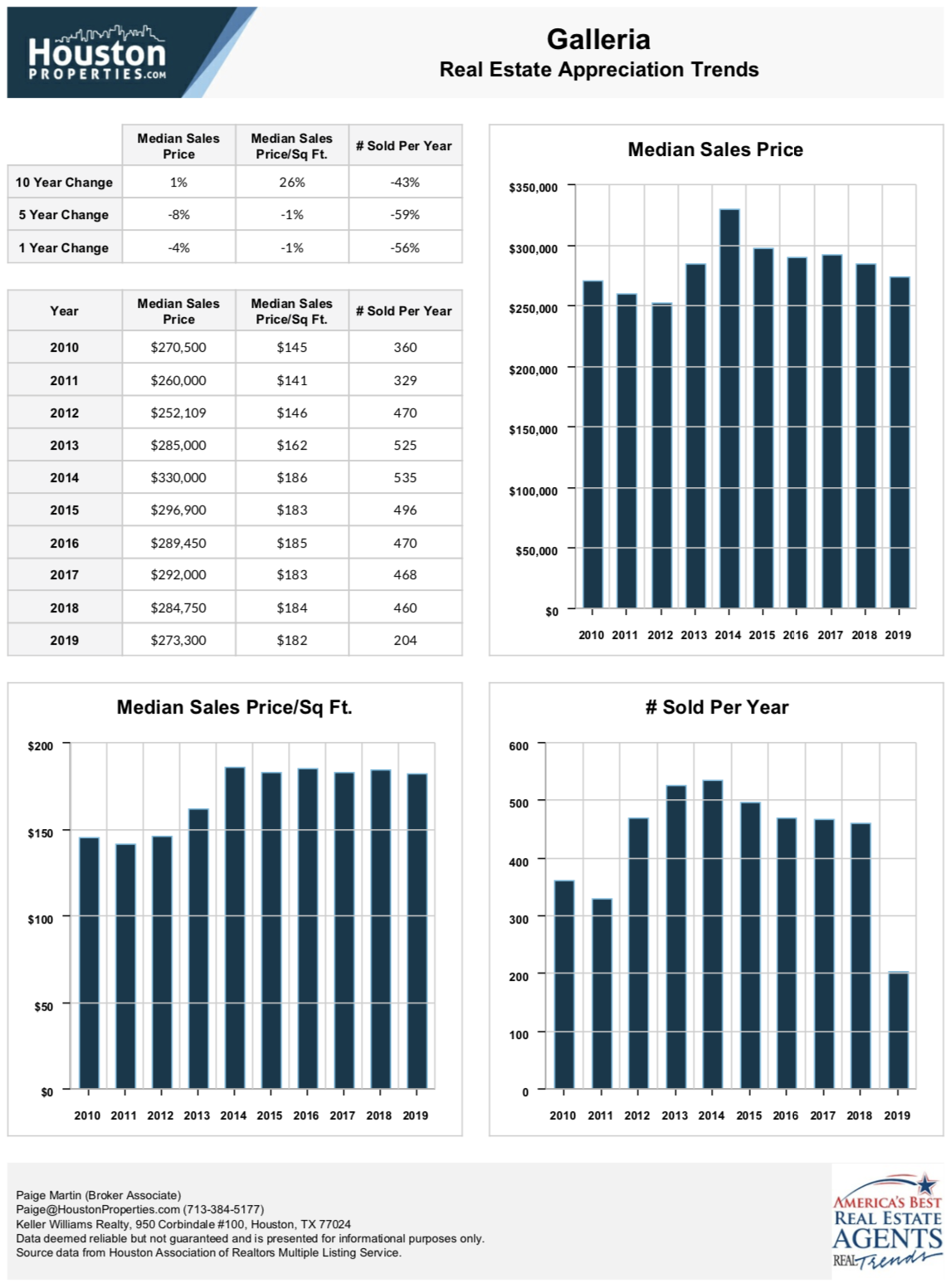 (Data sourced from the Houston Association of Realtors Multiple Listing Service and is deemed reliable but not guaranteed.)
For updated information regarding Galleria real estate pricing and trend analysis, please contact Paige Martin at Paige@HoustonProperties.com.
Galleria Single-Family Home Sale Trends
Even with the district's rich pool of high rise condos, Galleria single-family homes are still a popular choice among homebuyers. Ranging from vintage patio homes to new construction custom-built luxury homes, the area offers several options that would suit one's wants and needs.
Architectural styles vary, with homes ranging from traditional, contemporary, ranch, Mediterranean, and French, among others style sensibilities.
A number of factors play a role in pricing, including location, size of the home, and condition. Prices can start at $400,000 to more than $2,000,000.
Galleria Townhomes Sale Trends
Townhomes are fairly popular in the posh Galleria-Uptown area. Several units are available within gated communities that offer upscale amenities like round-the-clock security, pools, and parking.
Several new construction townhomes line the Galleria area's streets and are a common option for families and young professionals alike.
Galleria Condo Sale Trends
With entertainment, retail, and job centers all within a stone's throw away, Galleria Houston condos are a popular option. Apart from convenience and accessibility, Galleria highrises offer luxury amenities like 24/7 staff and security, parking, tennis courts, fitness centers, pools, private gardens, and rooftop decks, among other things.
Located just outside the Inner Loop, The Galleria is one of Houston's busiest and most exciting districts. Condo residents are a few blocks from numerous entertainment hubs like The Galleria mall and Uptown Park, as well as restaurants, parks, and museums.
Condos in the Galleria are also a short distance to the district's many office buildings. See all of Galleria Condos on a map below.

Many Galleria Houston condos have 24-hour staff, guards, secure parking, gated entrance and building security. Some buildings also have fire prevention and emergency systems as well as surveillance cameras.
Galleria highrises also offer great amenities: tennis courts, pools, saunas, fitness rooms, well-kept grounds, roof top decks, and more. Porters, valet, building managers, concierges, trash & dry cleaning pickup are also available at many luxury buildings.
Known as "The Triumph Tower of Houston", Cosmopolitan is a 22-story highrise popular for its world-class condo features and five star hotel-like amenities.
View All Cosmopolitan Condos For Sale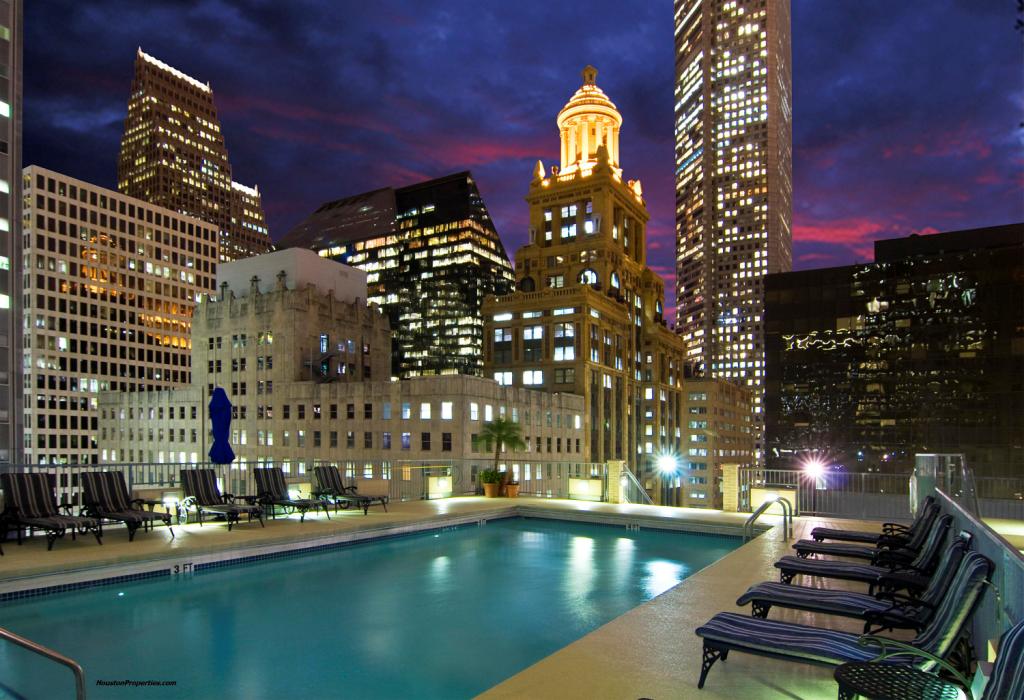 Astoria lies in the heart of Galleria. The 28-story high building features Modern Art Deco architecture and Galleria and Downtown views.
View All Astoria Condos For Sale
Designed and completed in 2010 by Ziegler Cooper Architects, Highland Tower features a wide floor plan selection and "modern-meets-classic" architectural design.
View All Highland Tower Condos For Sale
One of the districts most popular condo buildings, The Montebello is a 30-story high residential building towering over Uptown Park, just north of Houston's vibrant Galleria.
View All Montebello Condos For Sale
Villa D'Este (built in 1999) is a sister property to The Montebello (built 2003).  It is only a few hundred feet from Uptown Park, and is known for having high security and top-notch service.
View All Villa D'Este Condos For Sale
A Cesar Pelli creation, Four Leaf Towers is a towering pair of residential high-rises. The 40-story high condominium was one of the first luxury condo buildings in the Galleria.
View All Four Leaf Condos For Sale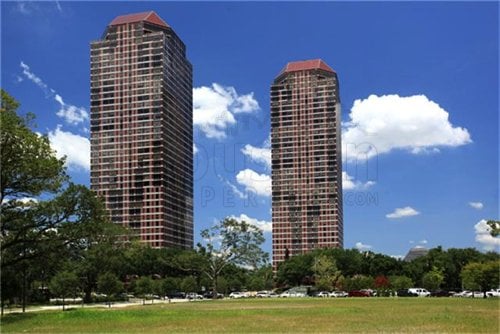 Located at the epicenter of Houston's finest dining and shopping establishments, The Bristol is also within blocks of major freeways, Downtown, Greenway Plaza, Medical Center, Reliant Park and Museum District.
View All Bristol Condos For Sale
Boasting of Classic New York architecture, Empire Lofts is also a few blocks from Uptown Park landmarks Williams Tower, Waterwall, The Lakes on Post Oak and Galleria IV.
View All Empire Lofts For Sale
A premier Uptown loft development, Lofts On Post Oak also has an impressive list of urban amenities including valet, concierge, room service, 6 resort pools, 20-seat theater, and more.
View All Lofts On Post Oak For Sale
Popular for its French Beaux-Arts style architecture, Manhattan's heavy stone base, two-story and paired columns, arched windows and grand arched openings are reminiscent of historic buildings in New York.
View All Manhattan Condos For Sale
Towering over the Uptown and Galleria area, St James is a 24-story building with a 25-year reputation as one of the earliest residential highrises in Houston.
View All St James Condos For Sale
The Mark is a 30 story residential highrise that features intercontinental style through its European-inspired architecture.
View All The Mark Condos For Sale
The Mercer is a 30-story residential highrise known for its state-of-the art amenities. The Mercer only has one to two units per floor, providing its residents ultimate privacy.
View All The Mercer Condos For Sale
Directly adjacent to the Galleria complex, The Oxford is a 21-story highrise with 20-year reputation as one of the premier residential condo buildings in Uptown Houston.
View All The Oxford Condos For Sale
Venti is a European architecture-inspired building with twenty exclusive units. The residential midrise features private, luxurious, and modern condos for sale.
View All Venti Condos For Sale
Galleria Houston Realtor – Paige Martin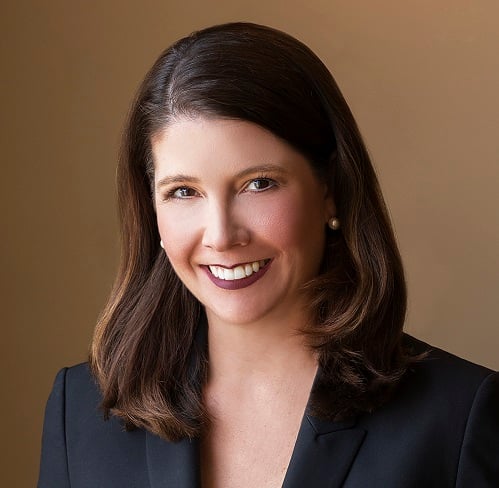 As featured on Fox News in the Morning, the Houston Business Journal, Houston Chronicle, and Houston Magazine, Paige Martin – a consistent Top Producing Broker-Associate and the owner of HoustonProperties.com – is ranked amongst the very top Keller Williams agents in the Houston area.
Paige is ranked as one of the top realtors in Galleria Houston, and the state of Texas. Read more about the over 65 awards she's won in the last few years.
Paige works with a tremendous number of buyers and sellers within Galleria, earning praises like "Paige Martin is the best Galleria Houston realtor I know." Read more about client feedback and ratings here.
For a specific recommendation of neighborhoods, homes or properties based upon your personal style, goals & price point, please contact Paige Martin, Owner of HoustonProperties.com & Broker Associate atPaige@HoustonProperties.com or 713-384-5177.