Timbergrove Houston Neighborhood Guide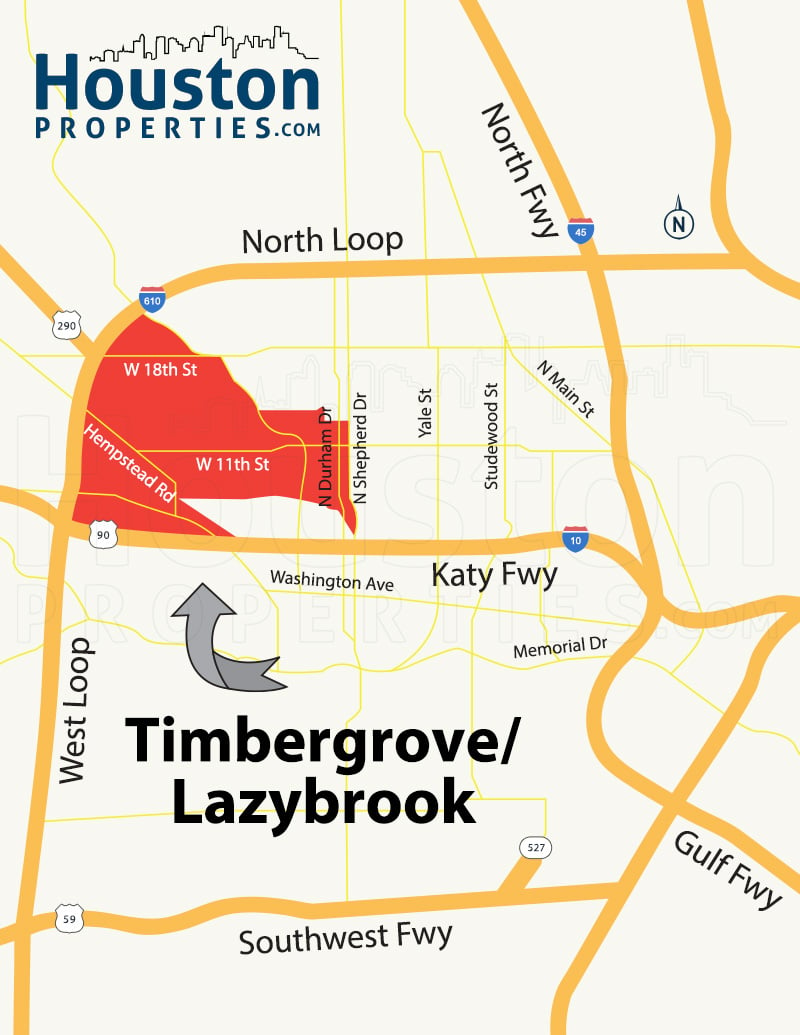 Timbergrove Manor, or known simply as Timbergrove, is a deed-restricted neighborhood located at the northwest bend of Loop 610.
Adjoining neighborhoods Lazybrook and Timbergrove have much in common: a suburban vibe, ranch-style homes from the 50s and 60s, and large, treed lots, among others.
Here are some of the key reasons why Timbergrove homes for sale are constantly in high demand.
CENTRAL LOCATION: Much of Timbergrove's appeal stems from its central location near Loop 610, schools, restaurants, cafes, stores, parks, bars, main roads, and various entertainment options.
HIGH ACCESSIBILITY: Minutes away from Loop 610, Highway 290, and I-10, Timbergrove residents enjoy a fairly easy commute to the rest of Houston. Downtown is about 7 miles east, while other key areas like the Galleria, Rice Military, and the Heights are all within short driving distance.
ACTIVE CIVICS ASSOCIATIONS: Timbergrove Manor features two distinct communities, and each has its own homeowners association: the Timbergrove Manor Civic Club and the Timbergrove Manor Neighborhood Association.
GREAT ATMOSPHERE: One of the Inner Loop's residential enclaves, Lazybrook/Timbergrove offers a quiet, family-friendly vibe. Its old homes, large trees, and central location gives it a unique charm, balancing a old world atmosphere with the convenience of Inner Loop living.
Timbergrove Manor also boasts of having one of the fastest growing real estate markets in the Inner Loop.
Credit this to increased demand for Lazybrook/Timbergrove homes, and to the number of new development in the area. These, however, have made the area challenging to navigate, especially for first-time homebuyers. One will definitely appreciate the help of the best Timbergrove Houston realtor for advice and updated information.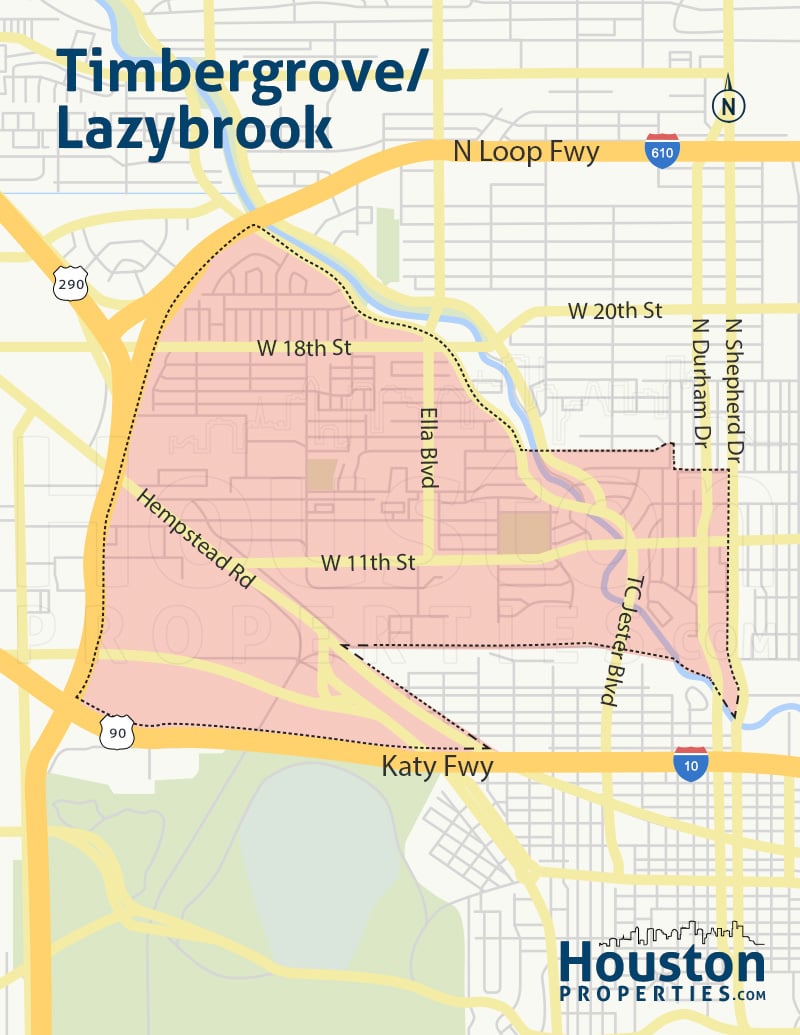 For any inquiries about Timbergrove homes recommendations, or off-market MLS listings, get in touch with Paige Martin, Owner of HoustonProperties.com and one of the best realtors in Houston.
Timbergrove Resources (Popular Topics)
Houston Timbergrove Neighborhood Profile
Timbergrove Real Estate Guide
Paige Martin – Timbergrove Realtor
Timbergrove Maps and Location
Timbergrove is centrally located within the northwest quadrant of the Inner Loop. Its proximity to Loop 610, Northwest Freeway (Highway 290), and Katy Freeway (I-10) provides excellent access to key Houston areas like Downtown, the Galleria, Rice Military, Memorial Park, and Montrose.
The Heights is located immediately east of Lazybrook/Timbergrove, with Hyde Park to the south. Garden Oaks and Oak Forest are north of the neighborhood across the Loop, while Memorial Park, Rice Military and Camp Logan sit farther south, across the I-10.
White Oak Bayou provides the neighborhood's lush northern border. Some parts of Timbergrove Manor – specifically homes under the Timbergrove Manor Neighborhood Association – are located west of the bayou.
Timbergrove Houston is under the 77008 zip code of Harris County.
Zip codes near Lazybrook/Timbergrove include 77007, 77018, 77076, 77055, 77092, 77024, and 77009. (View Houston zip code map)
Fun Things To Do Near Timbergrove
Timbergrove Manor, though mainly residential, does have a few retail, dining, and entertainment options available within its borders. There are, however, more than enough sights and eats (along with nightlife, retail, and entertainment) so conveniently located in surrounding neighborhoods.
With the Galleria, the Heights, Memorial Park, and Rice Military are all within driving distance of the neighborhood, Timbergrove residents have plenty of options from which to choose.
Timbergrove also offers a number of green spaces including the Jaycee Park, West 11th Street Park, and Timbergrove Manor Park.
Jaycee Park, located at 1300 Seamist, had undergone fairly recent renovation through the efforts of the Friends of Jaycee Park and the surrounding communities. The park now features a basketball court, a number of tennis courts, a playground, a 1/3 mile walking trail, a water playground, and picnic tables.
West 11th Street Park, on the other hand, is a 20.2-acre nature park and is home to several species of birds, butterflies, and a wide variety of other flora and fauna. It is largely wooded, with trails and spots for birdwatchers. Residents also enjoy the White Oak Bayou's 7.4-mile hike and bike trail, which is connected to several parks including Timbergrove Manor Park.
With the Memorial Park a short drive away, Timbergrove Manor homes also have easy access to its many amenities, including a top-rated municipal golf course, nature center, and miles of trails.
Here are some must-visit places in Timbergrove Houston:
Restaurants
Pappa Geno's
Tia Maria's
Hughie's
Demeris Barbecue
Stalla's Deli
Pizza Inn
Live Oak Bar and Grill
Fiesta Tacos
Jason's Deli
Luby's
Captain Benny's
Pho and Grill
Ty Seafood Kitchen
Nightlife
Neon Boots Dancehall and Saloon
NJ's
Sassafras
Sunset Strip
Cristobal Mexican Grill and Bar
TA's Cargo Club
Lynn's Longbranch Saloon
Retail and Entertainment Centers
The Galleria
River Oaks Shopping Center
Marq*E Entertainment Center
Uptown Park
Highland Village
Groceries
Kroger's
Walmart
HEB
Randall's
Fiesta Mart
Parks
Memorial Park
Timbergrove Manor Park
Jaycee Park
T.C. Jester Parkway Park
West 11th Street Park
Magnum Manor Park
In Memorial Park
Seymour Lieberman Exercise Trail
Houston Arboretum and Nature Park
Memorial Park Golf Course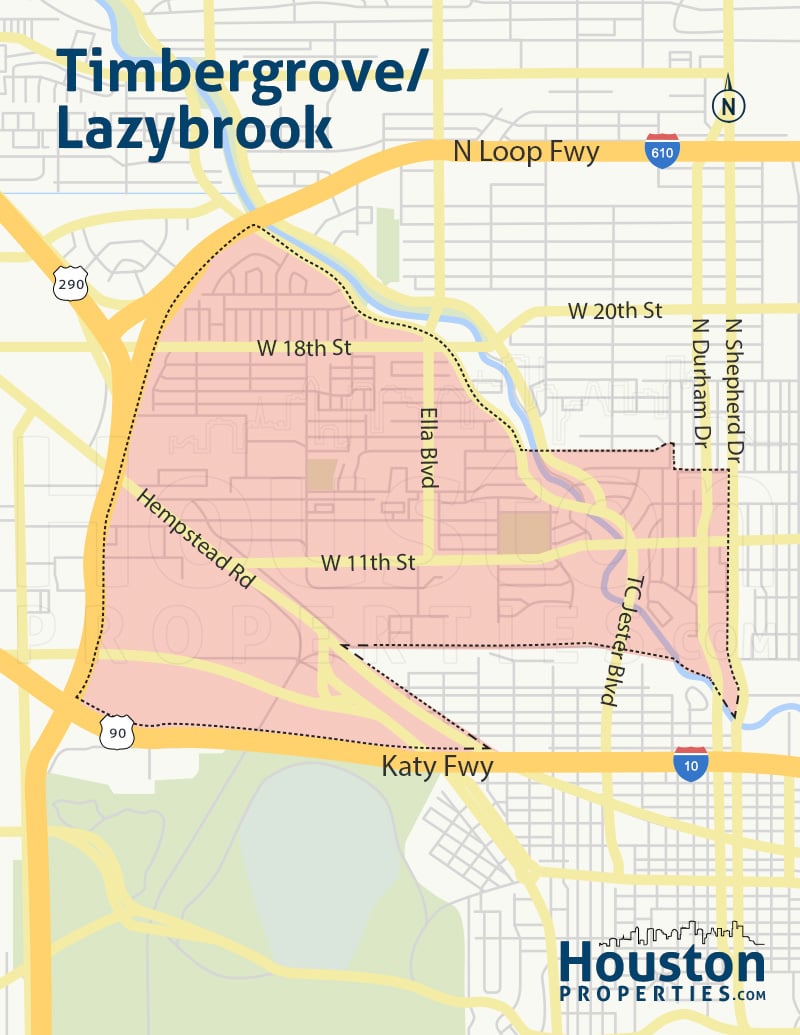 Neighborhoods Near Timbergrove
Neighborhoods near Timbergrove Houston include:
Timbergrove Houston History
Timberbrook Manor, so named for the area's abundance of pine trees, was mainly settled by German farmers during the 1800s. St. John's German Lutheran Church, one of Houston's first churches, was built during this period.
In the 1930s, the discovery of oil (the Eureka Oil Field) led to droves of workers moving in. However, the Lazybrook/Timbergrove area was still largely wooded and undeveloped in the 40s and 50s.
Compared to The Heights, Timbergrove is a fairly "young" neighborhood. Houston's suburban boom in the 50s and 60s and the development of freeways helped hurry things along in the area.
Like most Inner Loop suburban neighborhoods, Timbergrove Manor featured mostly single-family ranch-style homes. Years later, young professionals moved into the area, with some converting older homes into more modern two-story homes. Others updated and renovated, keeping to the homes' rustic vibe.
Today, Timbergrove Manor is one of the Inner Loop's hottest neighborhoods. Increased demand has driven new developments in the area and housing options in Lazybrook/Timbergrove now include townhomes.
Timbergrove Schools
Timbergrove Manor is zoned to the Houston Independent School District (HISD).
Elementary Schools
Sinclair Elementary at 6410 Grovewood Ln. Sinclair Elementary features a a Communications magnet program aimed at developing written, visual, and oral communication among students in grade K to 5. This includes programs in TV/Video/Movie Production, Multimedia/Publishing, and Drama/Broadway/Production.
Love Elementary School at 1120 W 13th St. Love Elementary features a wide variety of activities and enrichment programs designed to develop its diverse student body. It is one of the HISD's Neighborhood Vanguard Gifted and Talented schools, and offers programs including Bilingual/ELL and a special education program. Activities also include a Lego-based robotics program.
Middle Schools
Frank Black Middle School at 1575 Chantilly Ln. Founded in 1957, Black is a Vanguard magnet school named after one of Houston's most notable educators. It stays true to its motto, "Excellence in Academics, Athletics and the Arts" through its academics and athletics programs, as well as its rich variety of electives.
Hamilton Middle School at139 E 20th St. Also featuring a Vanguard magnet program, Hamilton has a research-centric curriculum for its gifted and talented students.
High Schools
Waltrip High School at 1900 West 34th St. Waltrip High School features the Houston ISD's Research and Technology magnet program. Founded in 1959, the school was named after Stephen Pool Waltrip, a former principal who also served in Reagan High School.
Reagan High School at 413 E 13th St. Located in the Heights, Reagan is the HISD's Magnet School of Computer Technology. It is also an IB World School that offers the IB (International Baccalaureate) Middle Years Programme. In addition, the school also features AP programs and divides students into different "Academies," including Computer Magnet, Health Science, Business, Engineering and Design, and Transportation.
Timbergrove Houston Private Schools
Listed below are some private schools located near Timbergrove.
River Oaks Baptist School at 2300 Willowick Rd.
St. Theresa Catholic School at 6623 Rodrigo St.
St. Thomas High School at 4500 Memorial Dr.
St. Rose of Lima Catholic School at 3600 Brinkman St.
Lutheran High School at 1130 W 34th St.
Immanuel Lutheran School at 306 E 15th St.
Houston Heights Charter School at 1125 Lawrence St.
To find an updated listing of all Timbergrove real estate zoned to any specific public school, please send an email to Paige Martin at Paige@HoustonProperties.com with the property preference and budget that you're working with.
*Note: School zoning tends to change from year to year, information provided above are accurate but not guaranteed. Please double check by visiting the school's website.
Timbergrove Real Estate Trends
Like adjoining neighborhood Lazybrook, Timbergrove real estate have posted strong appreciation rates over the last 10 years. The median sales price of Timbergrove homes went up from $215,000 in 2005 to $400,000 in 2014. This 86% positive change is one of the best among Inner Loop neighborhoods.
Timbergrove's growth can be greatly attributed to increased demand – leading to several new developments in the area. Townhomes and two-story single family homes have replaced some of the neighborhood's older ranch-style and traditional homes.
Another key thing to look at is the number of Timbergrove homes for sale (or sold). This number has decreased by 10% from 2013 to 2014, indicating a decrease in inventory. The increasing popularity and low supply of Timbergrove homes have also contributed to the rise of property values in the neighborhood.
Despite Timbergrove Manor's impressive growth, it remains one of the Inner Loop's most affordable neighborhoods.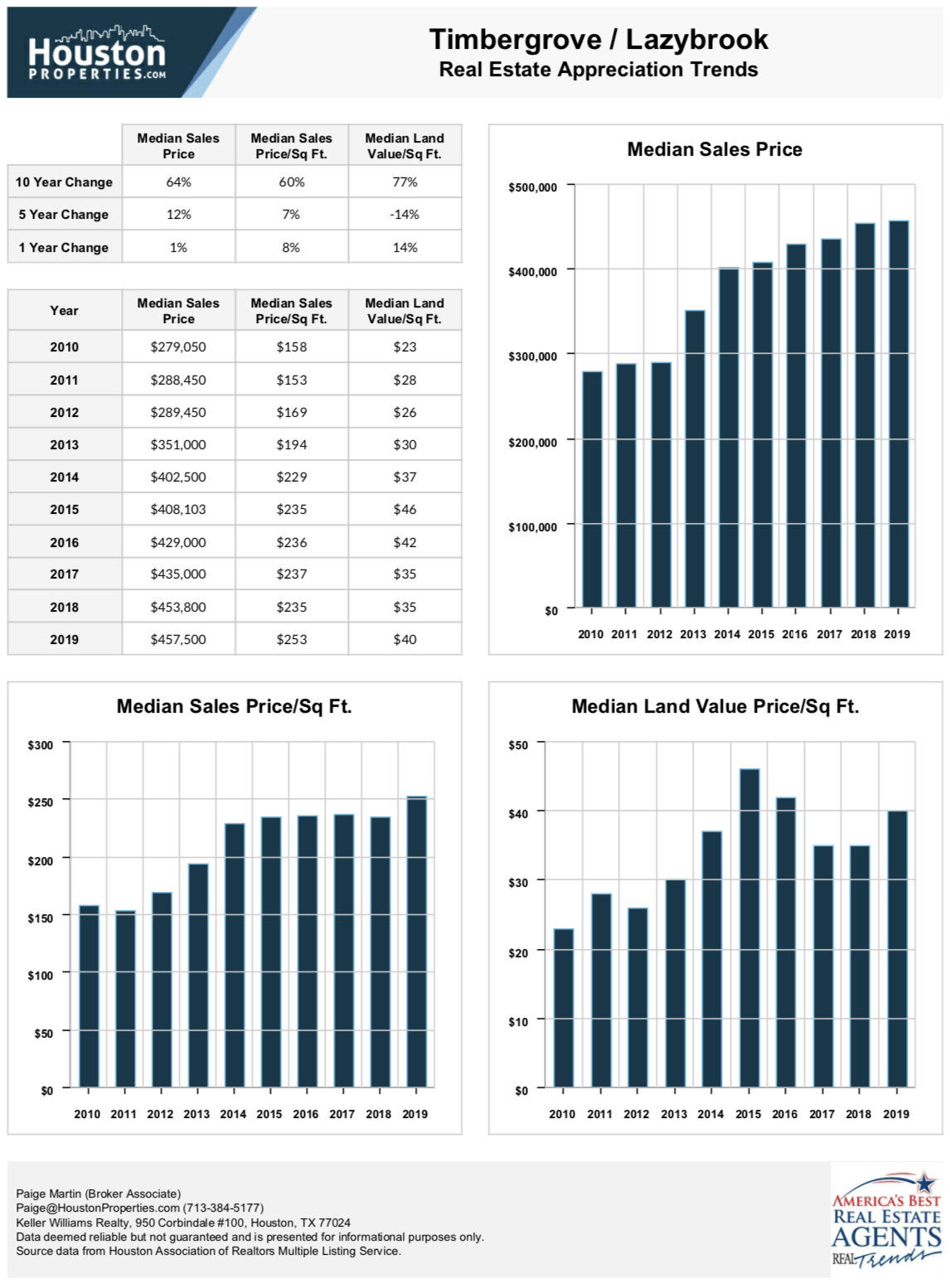 (Data sourced from the Houston Association of Realtors Multiple Listing Service and is deemed reliable but not guaranteed.)
For updated information regarding Timbergrove real estate pricing and trend analysis, please contact Paige Martin at Paige@HoustonProperties.com.
Timbergrove Single-Family Home Sale Trends
By Inner Loop standards, Timbergrove single-family homes feature relatively large lots. With a median lot size of 7,640 square feet, homes in the area offer plenty of room for front and/or backyards.
Timbergrove mostly features traditional and ranch-style homes dating back to the 50s and 60s. Some have been gorgeously renovated and updated, while others have since been converted into modern two-story homes.
The neighborhood's newer additions come in various architectural styles and typically sell for much higher prices than older homes.
An older Timbergrove home can feature a 3/2 floor plan, while a new custom-built home can feature as many as 4 to 5 bedrooms with 4 and one half baths.
Prices vary from home to home. Location, condition, size, and age of the home are major factors in pricing.
Timbergrove Townhomes Sale Trends
There are a number of new townhome developments around the Lazybrook/Timbergrove area, including Heritage Creek, Timbergrove Heights, Timbergrove Terrace, Timbergrove Point, and Timbergrove Gardens. These upscale developments are relatively new, with prices ranging from $250,000 to more than $500,000.
Most Timbergrove homes, however, are single-detached dwellings.
Timbergrove Condo Sale Trends
There are no mid- or high-rise Timbergrove condos for sale, but there are plenty of options available to those in the market for Inner Loop condos.
Listed below are some of them:
Downtown Houston (77002 / 77010):
To see other condos within the Inner Loop, see Inner Loop Houston Condos. To see condos within the nearby Museum District area, see Museum District Area Houston Condos.
Timbergrove Houston Realtor – Paige Martin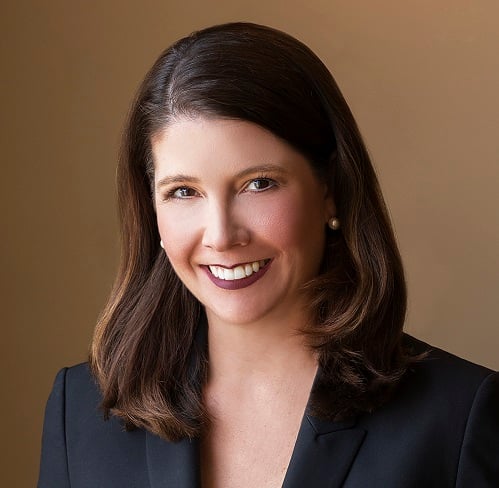 As featured on Fox News in the Morning, the Houston Business Journal, Houston Chronicle, and Houston Magazine, Paige Martin – a consistent Top Producing Broker-Associate and the owner of HoustonProperties.com – is ranked amongst the very top Keller Williams agents in the Houston area.
Paige is ranked as one of the top realtors in Timbergrove Houston, and the state of Texas. Read more about the over 65 awards she's won in the last few years.
Paige works with a tremendous number of buyers and sellers within Timbergrove, earning praises like "Paige Martin is the best Timbergrove Houston realtor I know." Read more about client feedback and ratings here.
For a specific recommendation of neighborhoods, homes or properties based upon your personal style, goals & price point, please contact Paige Martin, Owner of HoustonProperties.com & Broker Associate at Paige@HoustonProperties.com or 713-384-5177.