5 Important Bellaire Real Estate Trends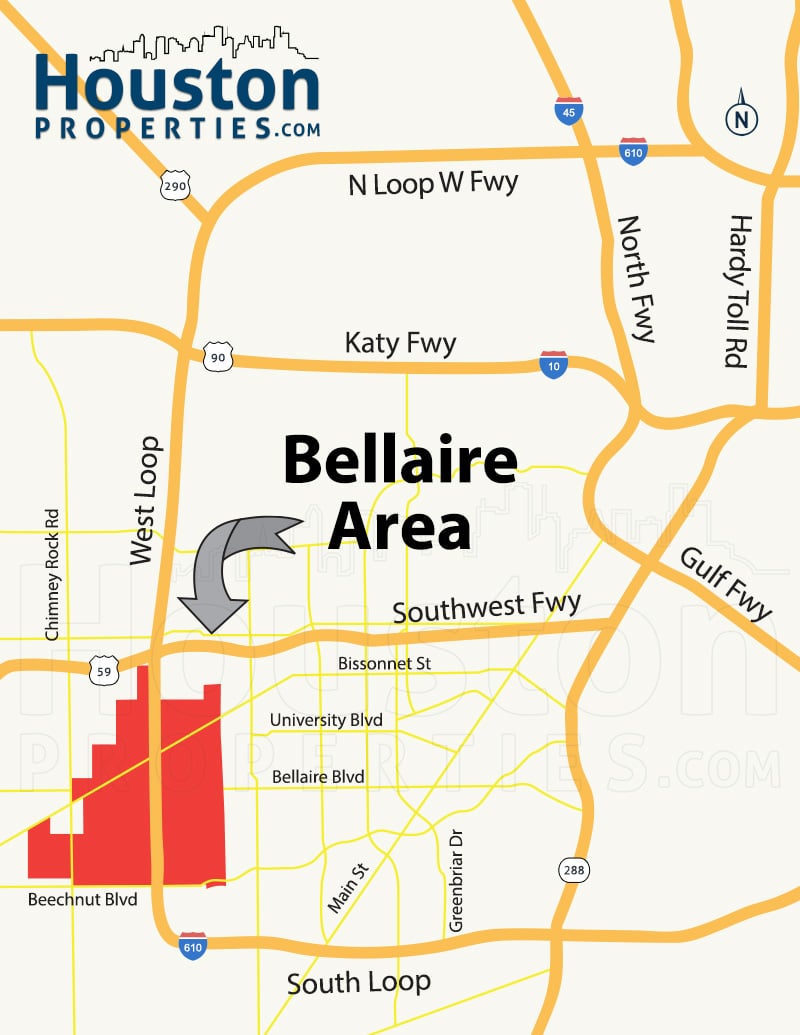 Located between the cities of Houston and West University, Bellaire is a small and largely residential neighborhood.
Bellaire homes for sale come in various sizes and prices. Property values in the area has slowly appreciated over the last decade, increasing by 64% in median sales prices and 48% in price per square foot.
For questions, advice, Bellaire TX real estate recommendations, or off-market MLS listings, contact Paige Martin, head of the Houston Properties Team and rated as the best Keller Williams realtor the last four years.
Bellaire Houston Resources:
For an updated and customized Bellaire real estate pricing or trend analysis, please contact Paige Martin at [email protected].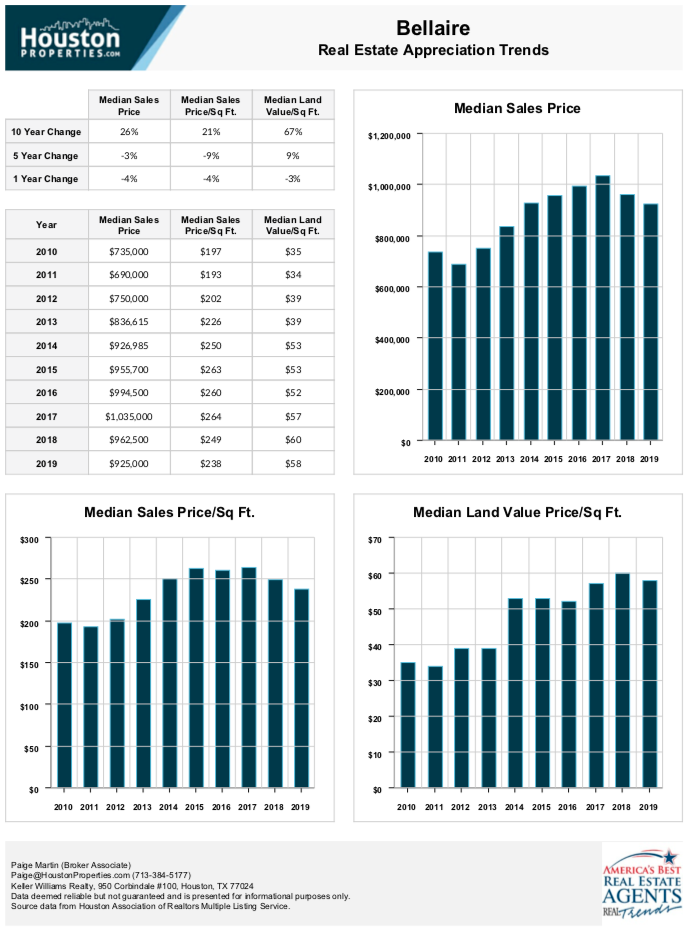 5 Bellaire Real Estate Market Trends For Homebuyers
1. Bellaire homes' appreciated by a quarter of its value the past 5 years.
Median sales prices of Bellaire homes have increased by 24% from $699,888 in 2010 to $870,000 in 2014. Although these numbers are already impressive, it is markedly lower than its 10-year appreciation of 64%, from $530,000 in 2005 to 2014.
2. Bellaire homes netted a 10% increase in just one year.
The Bellaire property market showed a 10% median sales price increase from 2013 to 2014. This shows that despite the slower 5-year appreciation rate, Bellaire homes are steadily appreciating in market value.
3. Bellaire homes sales prices tend to slightly fluctuate.
This doesn't indicate an unsteady market – Bellaire has a thick portfolio of properties varying in size, type, and age. Older houses in the area tend to sell for lower prices, while newer construction estate style homes can sell for over $1,800,000.
4. Price per square foot is higher than ever.
Despite the fluctuating median sales price, average price per square foot is at an all time high. The past decade marks a 48% increase, from $172 in 2005 to $254 in 2014.
5. The number of Bellaire homes on the market is decreasing.
Over the last 10 years, the number of Bellaire homes sold has decreased by 44% – from 352 homes sold in 2005, to 197 homes in 2014. This makes it more challenging for homebuyers to find homes within the neighborhood.
Bellaire TX Realtor – Paige Martin
As featured on Fox News in the Morning, the Houston Business Journal, Houston Chronicle, and Houston Magazine, Paige Martin – a consistent Top Producing Broker-Associate and head of the Houston Properties Team – is ranked amongst the very top Keller Williams agents in the Houston area.
Paige is ranked as one of the top realtors in Bellaire, Houston, and the state of Texas. Read more about the over 65 awards she's won in the last few years.
Paige works with a tremendous number of buyers and sellers in Bellaire.
For a specific recommendation of neighborhoods, homes or properties based upon your personal style, goals & price point, please contact Paige Martin, head of the Houston Properties Team & Broker Associate at [email protected] or 713-425-4194.