Upper Kirby Houston Homes For Sale Under $1M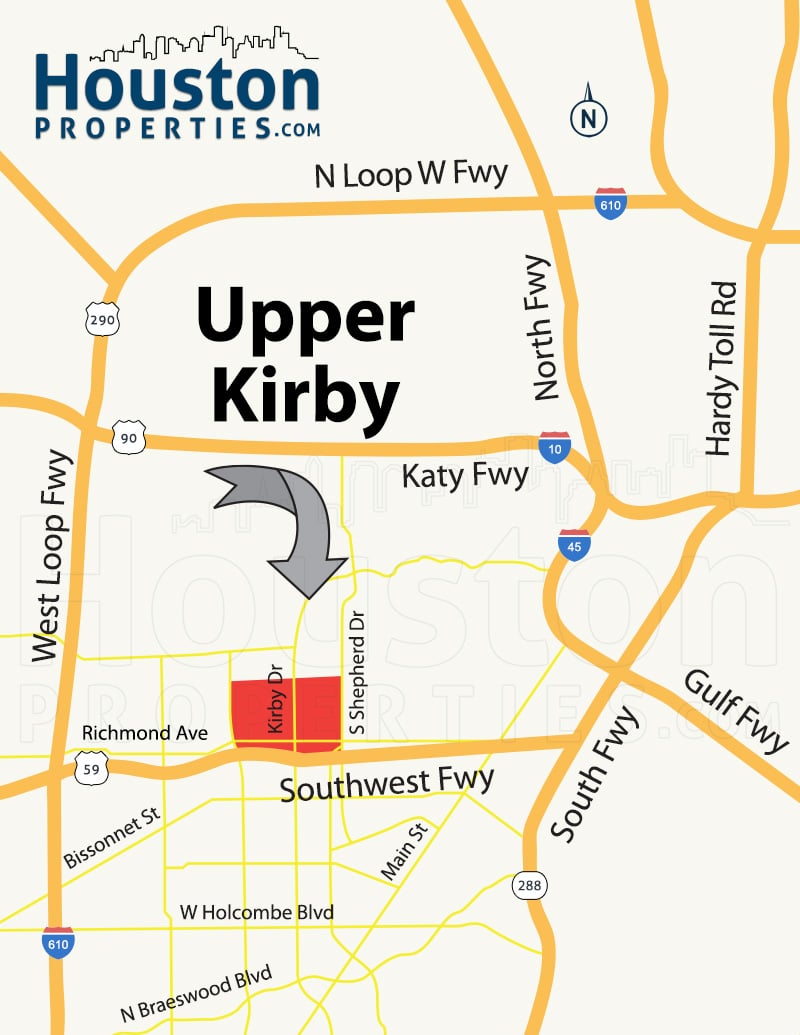 Upper Kirby, one of the Inner Loop's hottest neighborhoods in real estate appreciation, is a trendy mixed-used community located adjacent to the Greenway Plaza.
Upper Kirby homes are sought after mainly for their central location near schools, restaurants, bars, lounges, and shopping centers. Its location along several of the Inner Loop's main roads gives it excellent access to and from Houston's cultural, retail, and business hotspots.
Major job centers like Downtown and the Texas Medical Center are minutes away from Upper Kirby homes for sale. Other destinations like the Galleria and the Museum District are equally accessible from the neighborhood.
Some of the HISD's best schools serve Upper Kirby homes for sale and the district is also home to two highly regarded schools, Lamar High School and St. John's School.
Upper Kirby is something of a success story – formerly a rundown and forgotten area, it has reinvented itself into a hip and upscale district. The neighborhood's anything-goes vibe shows in its wide variety of homes. Older patio homes, townhomes in gated communities, elegant custom-built homes, and condos in highrise buildings grace the area's streets.
Contact Paige Martin, head of the Houston Properties Team & Broker Associate at [email protected] or 713-425-4194 for advice or questions about buying or selling a Upper Kirby townhome.
Upper Kirby Houston Resources:
NOTE: Upper Kirby homes are among the fastest selling real estate in Houston. Some of the properties are off-market (not publicly listed). For more information on available Upper Kirby homes for sale call Paige Martin at 713-425-4194 or email [email protected]
Upper Kirby Houston Neighborhood Guide
Upper Kirby is roughly bounded by the Southwest Freeway to the south, the Buffalo Speedway to the west, Westheimer Road to the north, and Shepherd Drive to the east.
The neighborhood is located near River Oaks, Montrose/Neartown, Greenway Plaza, Rice Military, Downtown, Midtown, Rice University, the Medical Center, and the Museum District. The independent city of West University Place is just south of Upper Kirby.
As a mixed-use neighborhood, Upper Kirby has a vibrant atmosphere with upscale custom-built homes, townhomes, older patio homes, and condos interspersed with chef-owned restaurants, cigar lounges, sports bars, and boutiques.
It wasn't always that way. During the late 80s, the area was a collection of rundown commercial properties. Concerned about the neighborhood, home and business owners came together and their efforts resulted in the formation of the Upper Kirby District.
Today, the district is one of Houston's most sought-after neighborhoods. It has become a destination in itself and its redevelopment is still ongoing.
Upper Kirby is within the 77098 zip code of Harris County.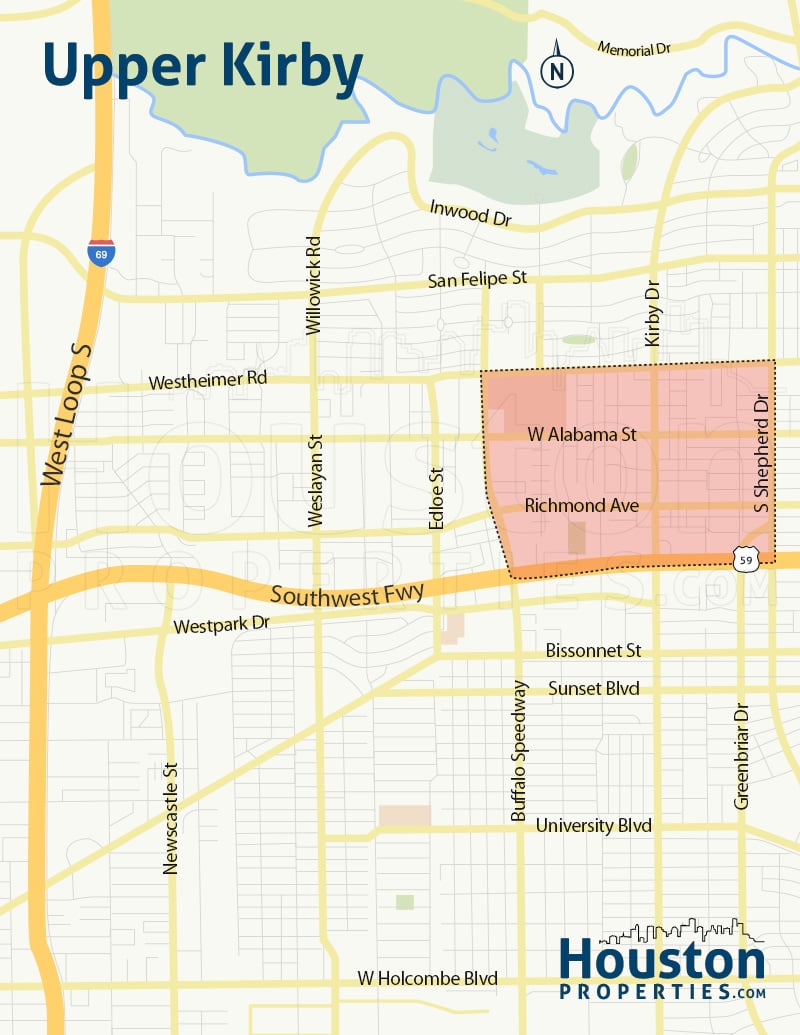 Upper Kirby Schools Information
Upper Kirby is zoned to the Houston Independent School District (HISD) and is home to two of the most highly regarded schools in the area: Lamar High School and St. John's School.
Public
Elementary
Poe Elementary at 5100 Hazard St. Named after the famous author, Edgar Allan Poe Elementary offers a fine arts magnet program, featuring various enrichment classes in dance, music, visual arts, Suzuki violin, and technology. It is a candidate for the International Baccalaureate Primary Years Programme.
River Oaks Elementary School at 2008 Kirby Dr. Founded in 1929, River Oaks Elementary is a magnet Vanguard school and is one of the HISD's International Baccalaureate World schools (Primary Years Programme).
West University Elementary School at 3756 University Blvd. Located in the eponymous independent city, West U Elementary is considered as one of the HISD's best elementary schools. It has a GreatSchools.org rating of 10 out of 10.
Middle School
Lanier Middle School at 2600 Woodhead St. Lanier is located in neighboring Neartown/Montrose and is one of the HISD's International Baccalaureate World schools (IB Middle Years Programme). It offers a Vanguard Magnet/GT program that features classes in foreign languages, algebra, and IPC (Integrated Physics and Chemistry).
Pershing Middle School at 3838 Blue Bonnet Blvd. Located in nearby Braeswood Place, Pershing offers a neighborhood program, a Fine Arts magnet program, Pre-AP, and a Vanguard Gifted and Talented program. The school specializes in music and features enrichment classes in "unorthodox" areas.
Pin Oak Middle School at 4601 Glenmont St. Located in Bellaire, Pin Oak is an option for students zoned to Pershing. The school is "application-only" and serves a regular program together with a Foreign Languages magnet program. Known for its academic excellence, Pin Oak was named a National Blue Ribbon School as well as a TEA Exemplary school.
High School
Lamar High School at 3325 Westheimer Rd. Located within the Upper Kirby District, Lamar features several academic programs including an IB Diploma Programme, Advanced Placement, and a magnet program for Business Administration. As one of the HISD's International Baccalaureate schools, it offers IB diplomas in 5 languages: French, Chinese, Italian, Russian, and Spanish.
Upper Kirby Houston Private Schools
St. John's School at 2401 Claremont Ln. Forbes lists St. John's (or SJS) as one of "America's Elite Prep Schools." It has long held a reputation in both academic excellence and selectivity. SJS also features a House system, in which students are sorted into six Houses.
Other notable private schools around the Upper Kirby area includes:
Annunciation Orthodox School at 3600 Yoakum Blvd.
The Harris School at 900 Lovett Blvd.
Avalon Academy at 1616 Indiana St.
Kipling Street Academy at 1425 Kipling St.
School For Young Children at 810 Sul Ross St.
St Stephens Episcopal School at 1800 Sul Ross St.
To find an updated listing of all Upper Kirby real estate zoned to any specific public school, please send an email to Paige Martin at [email protected] with the property preference and budget that you're working with.
*Note: School zoning tends to change from year to year, information provided above are accurate but not guaranteed. Please double check by visiting the school's website.
Upper Kirby Houston Realtor – Paige Martin
As featured on Fox News in the Morning, the Houston Business Journal, Houston Chronicle, and Houston Magazine, Paige Martin – a consistent Top Producing Broker-Associate and head of the Houston Properties Team – is ranked amongst the very top Keller Williams agents in the Houston area.
Paige is ranked as one of the top realtors in Upper Kirby Houston, and the state of Texas. Read more about the over 65 awards she's won in the last few years.
Paige works with a tremendous number of buyers and sellers within the Inner Loop.
For a specific recommendation of neighborhoods, homes or properties based upon your personal style, goals & price point, please contact Paige Martin, head of the Houston Properties Team & Broker Associate at [email protected] or 713-425-4194.